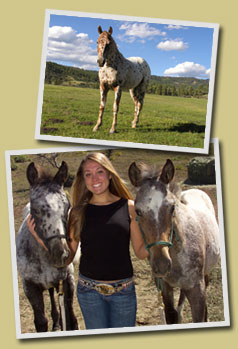 Here, high quality foundation-bred horses are raised and trained using natural methods.  The Herds consist of horses varying in age and color, including leopards, blanketed, spotted, roan and solids. The Stallions and Broodmares reflect the desired outcome - excellent confirmation, temperament and color. The Mares are pasture bred and the Foals are born and raised in a ranch herd environment. As the young horses develop, they continue in herd groups that reflect their age.  All handling and developing of the horses is done using natural horsemanship methods.  This builds a solid foundation for the future and creates a quiet, confident horse.
We offer a wide variety of horses for sale...from yearlings to mature horses...in a variety of colors and patterns.  Visit our In Training/Development pages to see the horses as they grow and mature and then visit our Sale Barns to see the outstanding horses now being offered for sale and pick out your next Appaloosa for your breeding/showing/recreational riding program. 
In addition to offering horses for sale through our Website, we also present horses for sale at various production / livestock sales throughout the United States.  Check out the Sale Dates page of our Website for the dates/locations of upcoming sales where we will be offering horses available for sale.
We offer financing with approved credit and also provide delivery to certain locations. 
We hope you enjoy our website!  Check back often as we are still building pages and will be adding more information and photographs soon!